VersaPay is a public company in Canada, so its proposed acquisition by Great Hill, a PE firm, gives us insights into valuations in the A/R Automation market.  This market includes companies such as Billtrust, High Radius, Rimilia, Apruve, and others.  It's a market I have written about before, but have not given its due.
The A/R Automation Market (really briefly)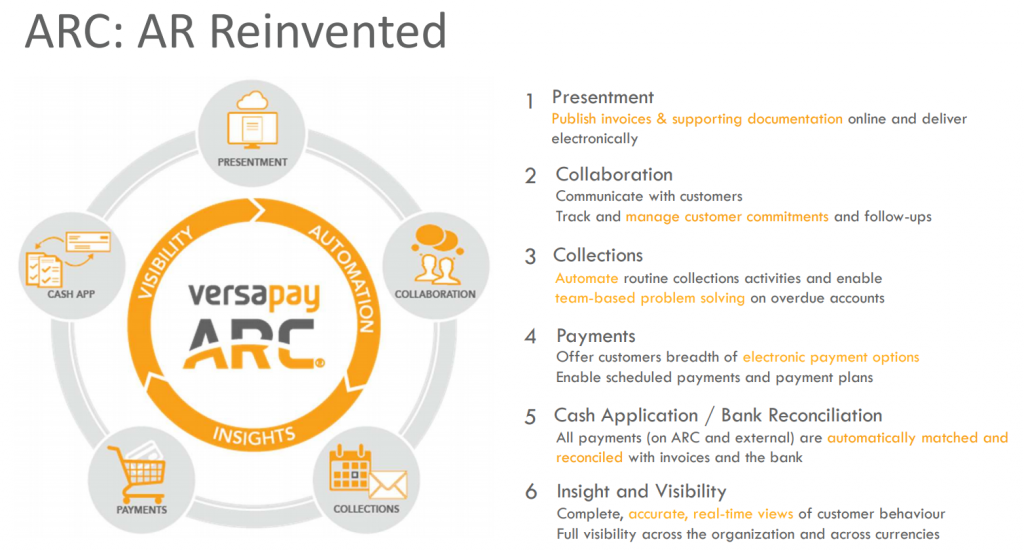 I'm not going to do a deep dive into the market, as this post will be more about valuation, but you need to know that as with the A/P Automation market, A/R market participants target different:
parts of the process from invoice presentment to collections to cash application
size enterprises
VersaPay appears to have started in payments, added presentment and collections, and recently added cash application.  The company targets companies with $50M to $1 Billion in sales, which it says represents a $5B+ market in North America.
VersaPay Valuation and Metrics
Great Hill is offering to pay C$126 million for VersaPay in an all-cash deal.  The price represents a 47.5% premium to the closing price of the VersaPay Shares on the TSX Venture Exchange on December 12, 2019 and a 64.5% premium to the volume-weighted average price of the VersaPay Shares over the last 30 trading days.  That's a nice premium, I wish I had owned the stock!
Here are my estimates of VersaPay's key metrics:
Expected 2019 Revenue:  C$9 million
Revenue growth rate about 90% y/y, ARR growth rate is roughly equivalent
83% gross margin
Committed ARR of about C$10 million
Baseline revenue heading into 2020 of $12 million
EBITDA for 2019 will be about -C$8 million
Q3: 1 million invoices delivered representing C$3 billion in spend (so C$3000 per invoice)
Q3:  310,000 invoices paid worth C$305 million (so about C$1000 per payment–meaning smaller payments, probably via credit card)
ARC (VersaPay's prime product that seems to exclude payments) will have about C$6 million in revenue.
Payport, their payments product will have about C$2M in revenue.
Implications
Great Hill is paying about 14x year-end revenue and about 10x year-end ARR.  Interestingly, because of the detailed metrics VersaPay gives us, the company seems to have a take rate of 6 bps on their ARC product and about 16 bps on the payment product.