A client's marketing department recently asked me about the difference between the terms "procure-to-pay" and "source-to-pay".  The obvious difference, from a supply chain perspective, is that "source-to-pay" includes the sourcing process (which I like to define as the steps that lead to a negotiated contract).   "Procure-to-pay" presumably starts with a contract in place off which purchase orders are raised.  (Don't get me confused with your spot buys or spot sourcing.)
But from a marketing perspective, these nuances are unimportant.  (Only nerds make the distinctions I just did.) From a marketing perspective, the real question is "What term are potential customers interested in?"  And for that, there is Google Trends.
Evolving Procurement Terminology
The Google Trends chart below shows that the term Spend Management was really popular in the early 2000s.  My recollection, perhaps faulty, is that Michael Schmitt, CMO of Ariba was responsible for coining, or at least popularizing that phrase. It was darn good marketing.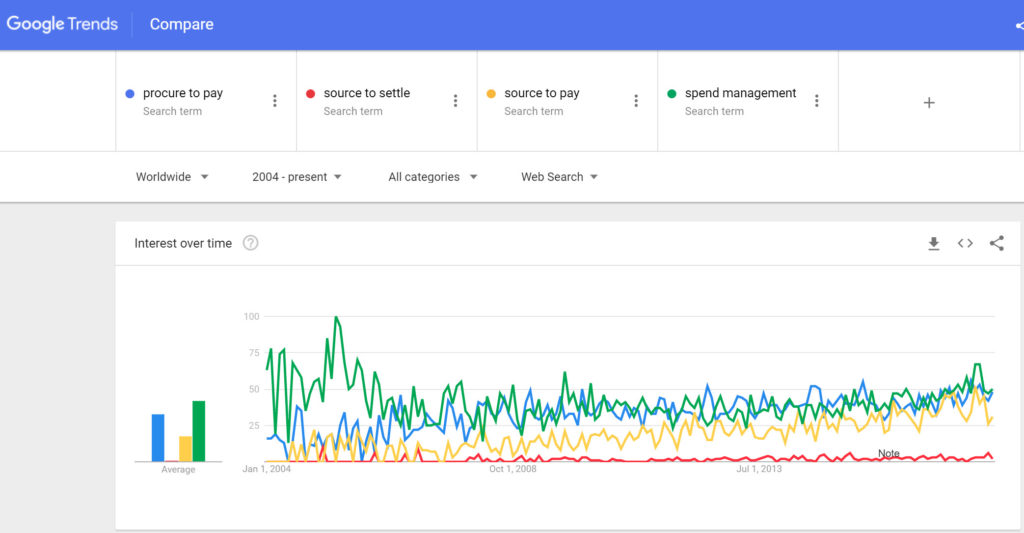 As you can also see, "procure-to-pay"  was popular before "source-to-pay" caught up.  This sequencing makes sense, as the leading sourcing vendors of the time were not procure-to-pay vendors and vice versa.  (It was not, for instance, until mid-2004 that Ariba acquired FreeMarkets.)  Finally, "source to settle"  which I liked (and so did American Express at one point) never caught on.
Order-to-Cash
But it turns out, all of these procurement terms pale in comparison to the popularity of the term "order-to-cash", which is, of course, the mirror image of "procure-to-pay" for the supplier. (H/T Peter Lugli.)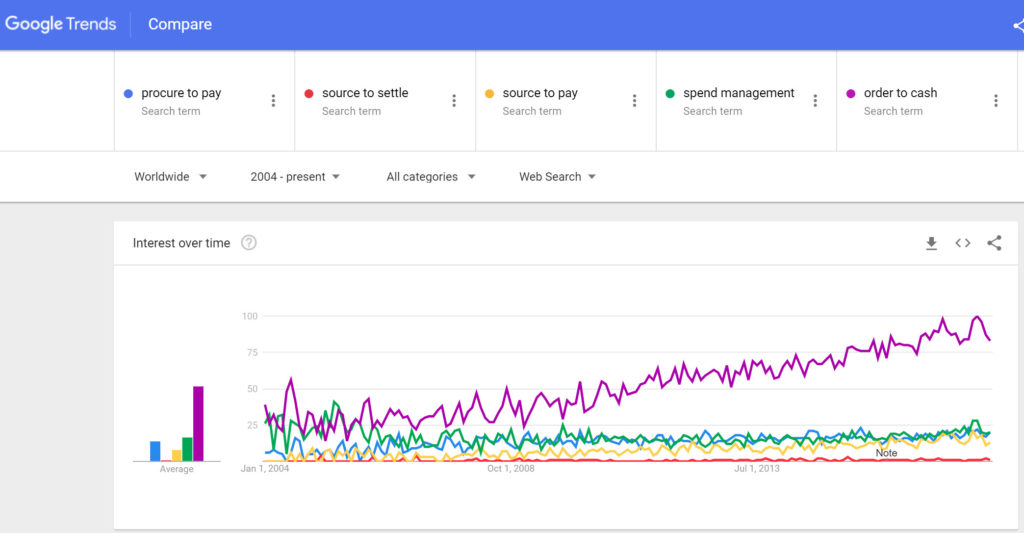 And it's not even close anymore.  This seems surprising to me, but perhaps it is because of my procurement bias.  But as a small business myself, it makes a ton of sense.  I have no procurement issues, but I certainly pay attention to my cash flow and my collections!  There is no small business or large one, that does not have issues with the order-to-cash process!
Integrated Receivables
The growing interest in the order-to-cash process could explain the attention the "invoice-to-cash", or accounts receivable process is getting from smart people and investors.  This sector is still trying to figure out how to describe itself exactly, but that hasn't stopped it from growing fast and raising a lot of cash.
Right now, only the generic term, "receivables management" shows up in Google Trends, but I suspect this market will evolve as the procurement space did over the last 15 years.