The recent news that Amber Road (AMBR) bought ecVision for about $30 million (hat tip to Jason Trevisan) prompted me to re-look at AMBR since it went public a year ago.
Just before it went public, I noted that Amber Road competes in an attractive market (global trade management) and the company seemed to be accelerating its growth in the last quarter of 2013.  I also noted several issues I expected might weigh on its IPO valuation:
Slower than "normal" SaaS growth
High percentage of  (low-margin, less recurring) services revenue
Very limited EBITDA (not that this one usually matters!)
Limited mid-market and small company appeal
Amber Road went public March 21, 2014 at $13.00 (opening at $17.00) giving AMBR a market cap of  approximately $400 million, or 6-8x sales.  For most of 2014, I was wrong.  None of the factors listed above weighed on the valuation.  Then the bottom fell out.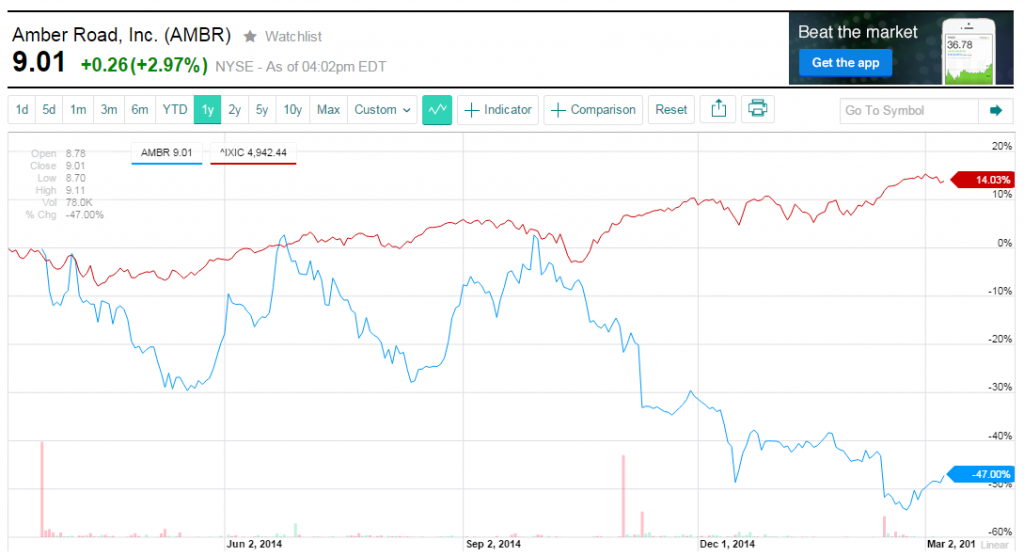 The stock recently traded as low as $8 and currently sits at $9.  What happened?
Amber Road's growth for 2014 turned out okay–it came in at 22%, but a bit lower than the 4th quarter of 2013 might have indicated.  (The 4th quarter was especially strong–as it is for many software companies.) The next three quarters, however, were relatively flat.  Q4 2014 was only 13% above the Q4 2103 quarter. The growth is slowing.
Much of Amber Road's growth was, unfortunately, driven by services revenue (up 44% vs. year ago) rather than subscription revenue (up 16%).
EBITDA is still small, but improved in 2014.
Most important, Amber Road gave 2015 guidance for revenue growth (before the acquisition) of just 5-7%.  Not the stuff of which SaaS dreams are made.
In this environment, improved EBITDA, but much slower growth tanks a SaaS stock!
Amber Road's ecVision Acquisition
The ecVision acquisition makes great sense.  ecVision offers solutions on the Sourcing and Product Lifecycle Management (PLM) portion of the business process for the same supply chains that Amber Road offers "downstream" duties and logistics solutions.  As Amber Road described it:  ecVision works on the "pre-PO" part of the sourcing and product development process and Amber Road works on the post-PO part.  Here's a picture of this process from Amber Road's latest investor presentation: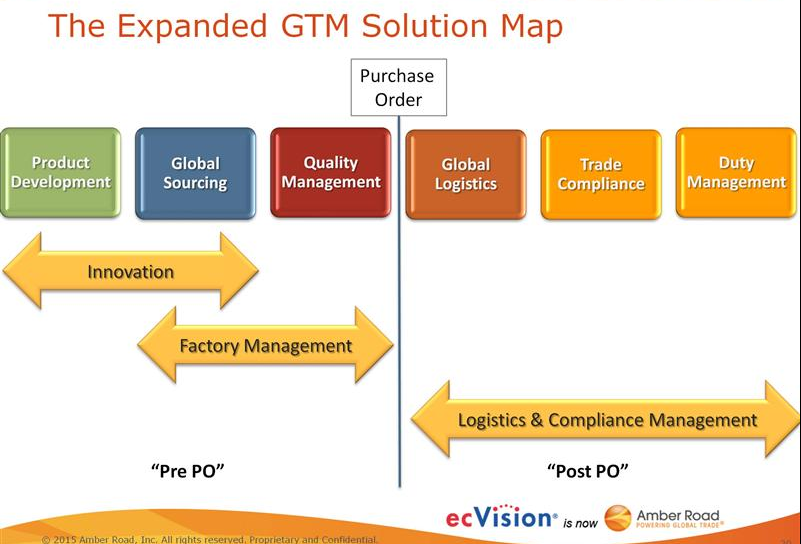 As Amber Road points out, the acquisition gives sales another product to sell, adds exposure to China and key apparel and footware verticals, and provides some access to Li and Fung.  The acquisition also provides competitive differentiation relative to GT Nexus.    The companies are geographically compatible (both in NJ) and the AMBR Chief Product Officer says the technologies are compatible as well.  It's a pretty shrewd move to fill in some apparent weakness in the base business, which is worrisome.  It looks like AMBR paid about 3x revenue for ecVision which had about $10 million in revenue and was about break-even at the EBITDA level.
Speaking of GT Nexus, last we heard (November) they were exploring sale or IPO and was rumored to have been left at the altar by SAP's Concur acquisition.  Maybe Thoma Bravo, Vista, Insight or one of the other big firms has the capital to take AMBR private and combine it with GT Nexus?