A few years ago I got to know Discover.org and RainKing.  These companies now form part of what is known as ZoomInfo Technologies which has filed to go public.  ZoomInfo provides data to B2B sales and marketing organizations.  (Not Zoom Video conferences.)
I saw a demo of ZoomInfo's latest platform last year.  My conclusion was that every B2B software company on the planet should subscribe to this service (or one like it).  I then checked with the companies I worked with. Almost all were already ZoomInfo customers. Zoom's prospectus shows that many other companies have come to the same conclusion.
A Brief ZoomInfo History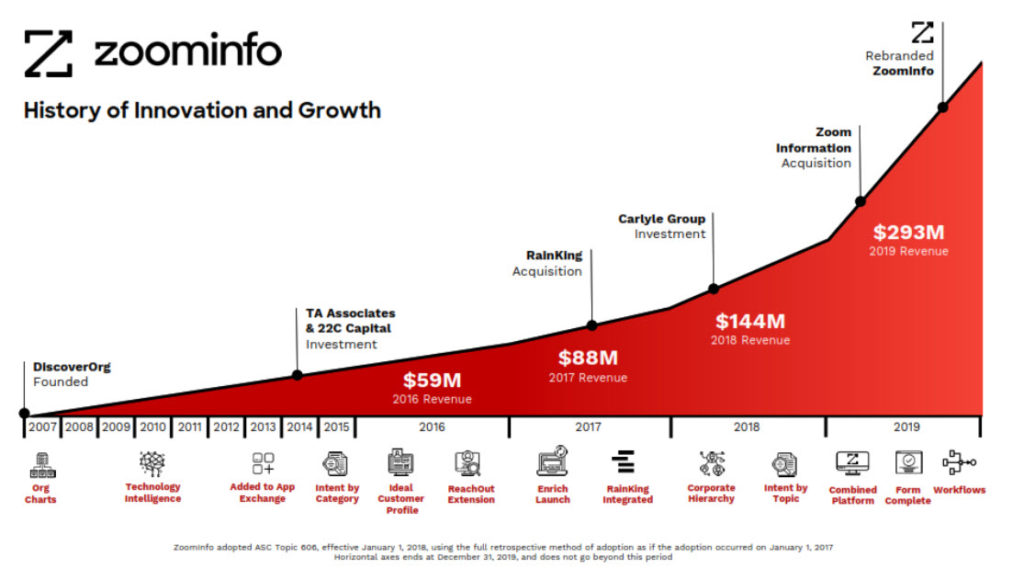 As you can see, ZoomInfo began as DiscoverOrg.  DiscoverOrg was focused on providing data to IT sales organizations (hardware and software).  It was known for its researchers who called companies to learn about IT initiatives and map IT organizations.  The company acquired a competitor, RainKing, giving the two in-depth information on a few verticals, but limited breadth.  In 2019, DiscoverOrg acquired ZoomInfo.  You probably know ZoomInfo from the results of your Google searches.  ZoomInfo had breadth, and not much depth, on business contact data.  Along with a few other savvy acquisitions, the company has now built a behemoth in providing sales organizations with accurate email, phone, and intent data for B2B sales and marketing organizations.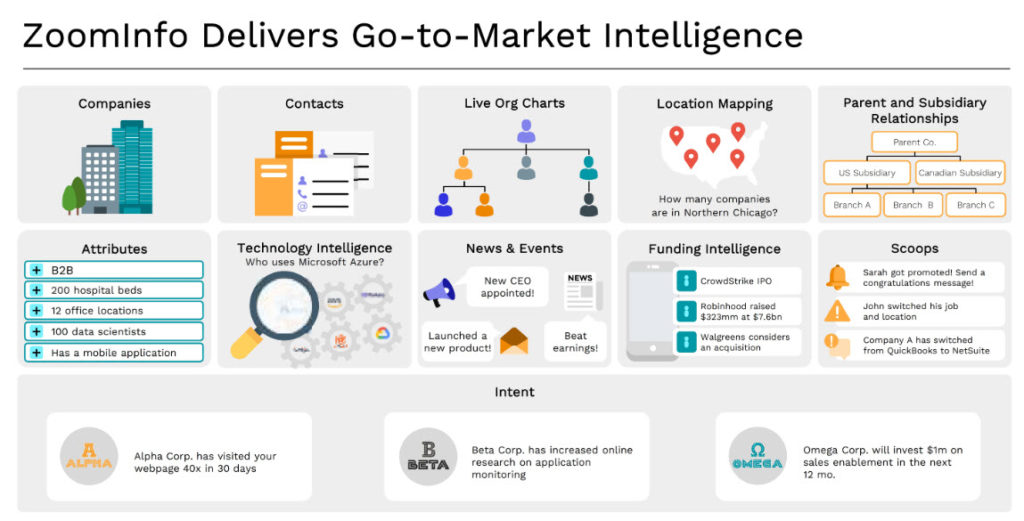 ZoomInfo's Eye-Popping Numbers
How do you go public during a pandemic using a virtual roadshow?  By having extraordinary results.  Here are the highlights from the S-1 regarding the year ended December 31, 2019.  (I'm going to keep this brief because there will be a million tear-downs of the S-1).
The company's revenue grew 39% in 2019 to $293.3 Million
Income from operations was $36.1 million or 12.3%.  If you add back non-cash charges, adjusted operating income was $167.1 million.  An adjusted operating margin of 51%!
EBITDA was $84.8 million and adjusted EBITDA was $173.2 million.
Pick your favorite profitability metric, but throw out the "Rule of 40", we're talking Rule of 65+.
Perhaps the most interesting numbers are the net retention numbers by customer size.  You rarely see this level of detail, but they are instructive for B2B companies selling across the size spectrum:

ZoomInfo has room for growth just by penetrating its existing market but can also diversify into other buying centers such as HR, Marketing, Procurement, and Product Design.  The company could also buy more complementary businesses, such as Bombora, with whom it partners.  It could even get further into the SMB space occupied by G2, Software Advice (Gartner), Capterra (Gartner also), TrustRadius, etc.
ZoomInfo does, however, have one big constraint on growth:  privacy laws.  This market is much easier to pull off in the US than in many other countries around the world and regulations could put a kink in their business.
Competition
I have not done a comprehensive analysis of ZoomInfo's plentiful competition.  After all, Marketing Technology (MarTech) has received so much investment over the past 10 years, it is hard to keep track of all of them.  Some of the obvious competitors are gigantic:  LinkedIn Sales Navigator (owned by Microsoft) and Dun and Bradstreet are just two.  TechTarget and  InfoGroup have also been around for a long time. On the other hand, all of these companies "presided" over the rise of ZoomInfo.    Start-ups InsideView, LeadIQ, and Clearbit have also raised millions to take on ZoomInfo.  ZoomInfo has done a good job of consolidating competition and know they are going to have a new currency for doing so.  Can anyone catch them?
If you are a CMO or CRO reading this and have some insights, please comment.  This company looks like a category-killer to me.