Sometimes you see a deal that makes you scratch your head and wonder "What were they thinking?!"  And sometimes the logic is immediately compelling.  GHX's acquisition of Lumere is the latter.  Allow me to explain.  But first I have to tell you about GHX, then about hospitals' spend profile, and finally about Lumere.
GHX History (not GXS!)
When I mention GHX to folks they often confuse it with GXS, the EDI behemoth now part of OpenText.  GHX stands for Global Healthcare Exchange.  GHX was born in the "bubble-era" as a consortium formed by major suppliers to the healthcare industry (i.e., J&J, GE Healthcare, Abbott Labs, Baxter, and Medtronic).  GHX's goal was to drive out inefficiencies in serving hospitals.
GHX started on the more concentrated supply-side of the market.   Over the next several years, GHX merged with companies representing the buy-side (hospital networks and GPOs).   Eventually, GHX ownership represented the entire industry.  (The resulting complex governance structure is the subject of a Harvard Business School case study.) GHX is, arguably, the most successful bubble-era birthed consortium.  (Elemica and Avendra could also make a claim to this title.)  The company has been owned by PE firms since 2014.
GHX Today
Here is how GHX describes itself these days:
Today, the GHX Exchange is the most advanced, sophisticated and scalable e-commerce platform available in healthcare. Our solutions and value-added services offer sophisticated tools for automating all phases of the procure-to-pay and order-to-cash supply chain.  [We help] customers drive workflow efficiencies in procurement, contract management, order lifecycle management, vendor credentialing and compliance, business intelligence, and invoice and payments.
While it's a simplification, I think of GHX as a multi-sided e-commerce platform that brings together the unique mix of players in the healthcare supply chain:
Hospitals (and other points of care)
Hospital supply and pharma manufacturers (the original investors in GHX)
Hospital supply and pharma distributors (i.e., Cardinal Health, McKesson), and
Group Purchasing Organizations (GPOs).  These are the cooperative buying groups hospitals join to aggregate spend and negotiate with suppliers.
GHX keeps the entire industry on the same page or in this case contract, as well as automating transactions.
Analyzing Hospital Spend
Total expenses of all U.S. hospitals (excluding capital) are about $1.1 Trillion (AHA).  A little more than half of that expense is salaries and benefits for staff, not spend.  So hospitals' spend is about $500 billion.  That's quite a prize. And it's growing faster than GDP as everyone knows.
The hospital supply chain is unique.  That's why horizontal procure-to-pay players such as Ariba, Coupa, etc. have never made much of a dent in this vertical.  (Another reason is the presence of GHX!)  Most of this spend falls into two broad categories (again leaving out substantial capital spend):  supplies and purchased services.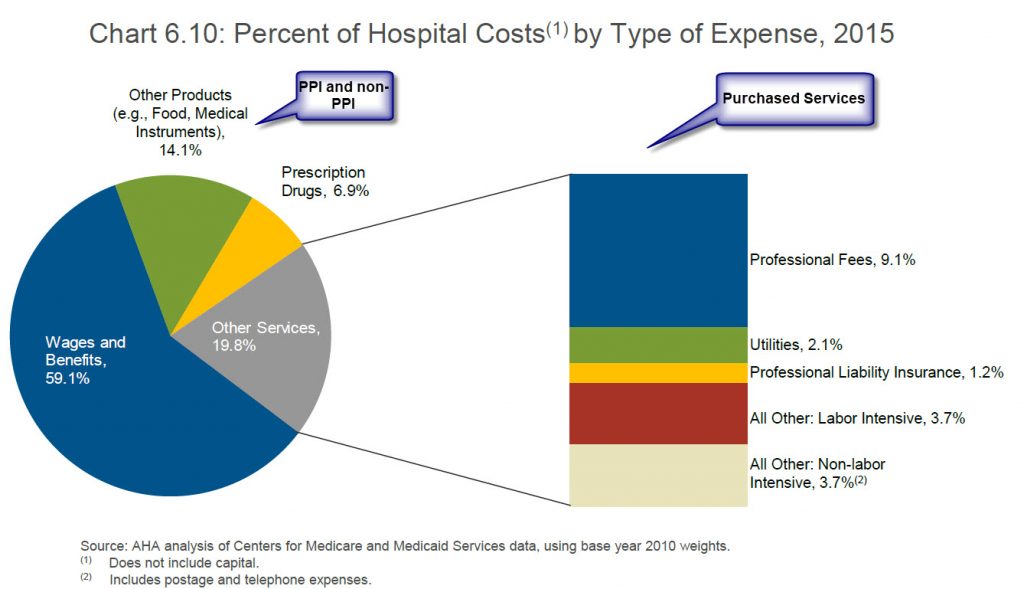 Let's leave purchased services for another day, but spend a little more time on supplies because that is where Lumere comes in. (I promise we are getting to Lumere.)
A Segmentation of Hospital Supply Spend
As you can see from above, supply expenses, which include medical supplies, pharmaceuticals, non-clinical supplies, MRO, etc.) make up about 20% of total hospital expenses and more than 50% of spend.  This means a market of over $200 billion.  (Which fits, by the way, with the reported sales of the top 4 GPOs.)
Studies show that while supplies may average about 20% of expenses, supplies can run up to 30-40% of expenses in hospitals with specialties in surgery, cardiac care, and orthopedics.  Why? Because that's where medical devices and other so-called "physician preference items" come into play.  These are the items:
where doctors have a big say in what products get used–implantables, surgical tools, etc.
whose cost continues to grow
most related to outcomes, which is what the entire healthcare industry is increasingly measuring and trying to pay based on.
One useful segmentation of hospital supply spend is not by category, but by the physician's influence.  Here's a spend segmentation from the Advisory Board: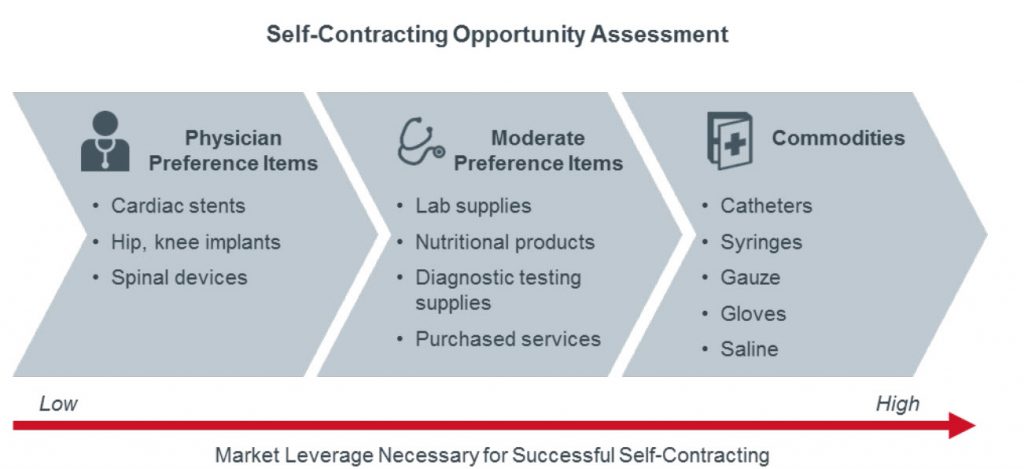 Experts estimate that PPI spend is more than 50% of total supply spend.  That's where Lumere comes in.  (I told you I would get there!)  GHX has typically handled the transactions towards the right end of the spectrum.  These are less physician-influenced, higher volume, lower cost, and more logistics-intensive items.  Lumere specializes on the left side of this segmentation, and more on sourcing and less on transactional efficiencies.
Lumere (Finally)
I wrote about Lumere about five years ago when it was focused on the sourcing of medical devices (see here).  At the time, Lumere was more oriented to the buyer value proposition and driving down supplier margins.  Lumere has now shifted its focus to more of a "win-win" by evaluating the outcomes and costs of physician preference items, now including pharmaceuticals.  Lumere describes itself as follows:
focused on helping health systems eliminate unwarranted clinical variation and cut unnecessary costs—specifically related to device and drug selection and utilization. By providing both physicians and hospital leaders with evidence-based data, information, and analytics they've previously lacked, Lumere accelerates their ability to optimize patient care and decrease healthcare's financial burden.
Lumere is focused on joining clinical outcomes data with cost data to help providers and suppliers make data-backed decisions on efficacy and value.  That's a welcome idea for both parties–and patients.  (Personally, I think I'd like to get the hip replacement with the best long-term results, not the lowest initial costs!)  The fact that Lumere does this analysis for both medical devices and pharmaceuticals means that the combination of GHX plus Lumere covers 50-60% of a hospital's spend in depth.
Summary
GHX's acquisition of Lumere checks many boxes for both organizations:
Lumere gets access to the GHX client base, which includes most of the acute care industry, as well as more data on procurement to spread its methodology to more categories
GHX :

gets coverage of more of a hospital's spend, specifically devices, and pharmaceuticals
moves up the value chain for hospitals by tying outcomes to procurement decisions on key purchases
further isolates itself from the commodity end of the market that might someday be attacked by AmazonBusiness
It seems like a win-win-win.  The last win being us as patients!  Now, on to purchased services!