The aforementioned companies all compete in the "reverse logistics" market.  Reverse logistics is the handling and resale of used, surplus, or returned equipment and/or merchandise.  Reverse logistics is a gigantic, fragmented market suited for the Internet.   After all, the Internet has had an impact on the used book and car markets!  And reuse and recycling are very much at the top of consumers' and companies' minds.
Each of these companies is quite different, though they overlap with each other.  Optoro, which recently appeared in a great New York Times article, is a fairly pure SaaS company aimed at helping retailers optimize their surplus and return merchandise across various consumer properties Optoro connects them to–Optoro's own site (Blinq), eBay, etc.  Optoro wants to disintermediate the numerous middlemen in this business.  Optoro has a really good idea, assuming retailers want a software solution and not a managed service and the numbers of any given item are not too large.
Genco was acquired last year by FedEx.  With over $1.6 billion in sales and 11,000 employees, this was not a SaaS business! Genco is a true 3PL with a specialization in refurbishing, test, and repair, along with "re-marketing and product liquidation"–in especially consumer electronics.
Liquidity Services (LQDT), which I have blogged about before (here and here) is a hybrid of these other two reverse logistics providers–offering both SaaS software and services.  LQDT is also different from Optoro and Genco, in that only a portion of its business is in retail.   About 40% of LQDT's business, as you can see below, is government surplus: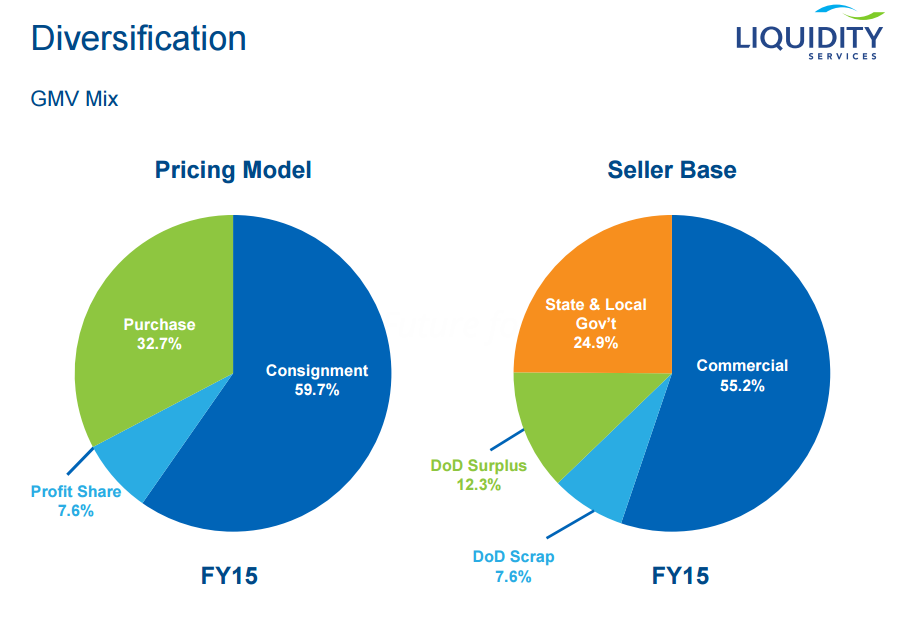 LQDT has had more than its fair share of challenges lately:  losing Federal contracts, losing its largest retail client (Walmart), writing down an acquisition, and building a new technology platform.  (It is taking the "reverse" part of "reverse logistics" a bit literally!) But LQDT did move about $800 million in Gross Merchandise Value last year and has a positive adjusted EBITDA of $33 million on revenue of about $400 million.  It has some very bright people and a stellar client base.  It the only provider who can offer a big manufacturer or retailer a full-service solution across asset types–if that is important.
Relative Valuations
What is more interesting about these companies is their relative valuations.  Like the products these companies sell, valuations are all over the board and beauty is in the eye of the beholder.
Optoro is a hot start-up.   Optoro has taken in more than $80 million in equity and $40 million in venture debt according to Crunchbase.  Presumably, this valuation reflects a multiple to sales.   And Optoro does is not likely to have any EBITDA yet.  (Optoro is private and does not disclose these numbers.)
Genco was acquired by FedEx for $1.4 billion, or about 1x sales, which is not unusual for a very service-intensive business.  (EBITDA was not disclosed.)
LQDT has the most transparent valuation since it is a public company.  But LQDT is not valued as a hybrid of Optoro and Genco, it by far has the lowest valuations of the three.   LQDT's Enterprise Value to Sales ratio is about

0.23x

and

EV/EBITDA (ttm) is 4.44x

according to Yahoo finance.  LQDT sells for less than 2x cash on hand and for less than book value.  Clearly, the market does not think LQDT's troubles are over.
At some point, all the bad news on LQDT will be out and the valuation will be low enough to make LQDT's stock attractive.  Until now calling that point has been a hazardous endeavor–I know because I have tried!: