So said Mr. McGuire to young Benjamin in the 1967 classic film, The Graduate. Apparently, Mr. McGuire was referring to B2B payments.
In an article in today's online Wall Street Journal entitled,  "B2B Credit Cards Jump", Hackett Group notes that B2B payments made by credit card (including procurement cards) continue to grow rapidly, albeit from a small base as a percentage of total B2B payments.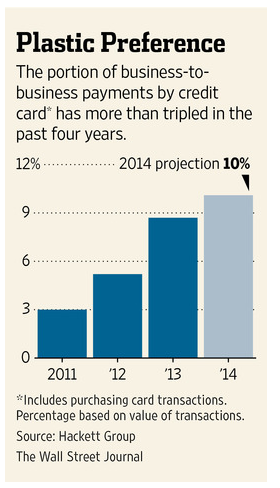 The article notes the processing benefits, "perks", and float buyers receive from use of the card, though the term "rebate" is not used.  The article also notes the relatively high fees that suppliers pay for accepting this form of payment relative to ACH.
The continued growth of procurement cards (p-cards) surprised me a bit, as they have been around a long time ('90s).  Procurement cards play a great role in small dollar transactions, but data, control, and interchange concerns always limited their growth–even with the enticing buyer rebates.  If this data is to be believed, p-cards may be making more, though still limited, progress in higher dollar transactions.  Either that, or many more companies are adopting their use. Maybe all of the new interchange rates, improved data options, buyer-initiated payments, etc. are making a real difference in adoption.  Only Hackett knows the truth–and, alas, they will charge me for the answer.
For those of you involved in two-sided markets and supplier-pay versus buyer-pay arguments (and that is everyone in B2B invoicing and payments), please note that is a small data point in terms of share, but large in terms of total fees generated, on the side of supplier-pay schema.
At the recent and very good, PMNTS.com conference on B2B payments there was a lot of talk about procurement cards, fleet cards, BIP cards, etc.–which I thought was a little outdated. Apparently, I'm the one outdated!