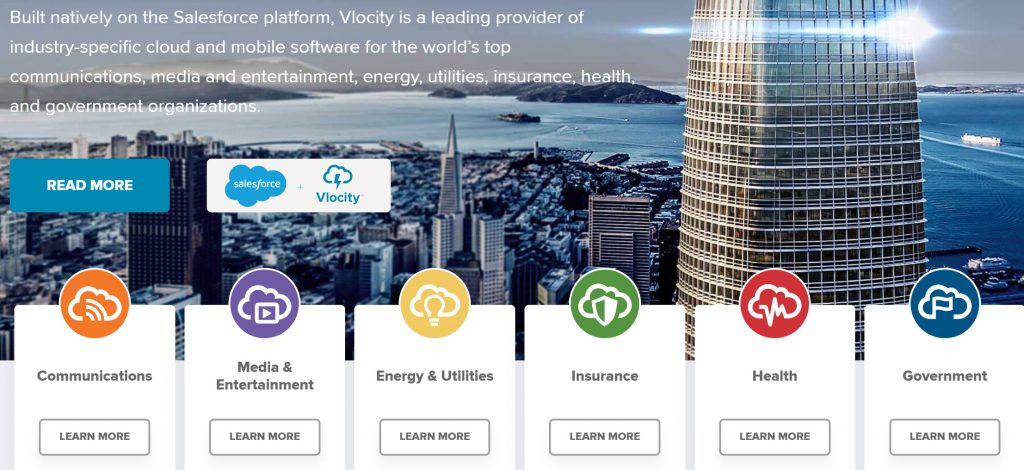 The picture above really does tell the whole story. (Assuming you know that is the Salesforce Tower!) Salesforce announced yesterday that it will acquire Vlocity. Vlocity is a supplier of industry-specific, or vertical, CRM solutions built on the Salesforce platform.
The Deal for Vlocity
Salesforce will acquire Vlocity for approximately $1.33 billion, net of the value of shares currently owned by the Company.  (I'm not sure how much of Vlocity, Salesforce already owned.)  The price appears to be 10x or less of 2020 expected revenues.  The purchase price is also approximately 8.2x total invested capital of $163 million.  It's a great result for Vlocity shareholders, but it's not a crazy valuation for this environment.  That's probably because Salesforce is, by far, the most logical buyer for a vertical CRM provider built on the Force.com platform!
A Different Approach To Verticalization
A typical pattern for B2B software companies is to start horizontal and then verticalize.  Sometimes this industry specialization is real and sometimes it is just marketing!  In this case, Vlocity grew semi-independently using the Salesforce platform and Salesforce then went verticalize just by buying them.  It's a new strategy for me.  Outsource industry specialization and then bring it in-house.
Veeva Blazed A Trail Beyond CRM
Veeva was the first player to build an industry-specific CRM on the Salesforce platform. While I expressed admirationfor Veeva when it filed to go public in 2013, I watched its stock languish for three years.  Then I took my eye off the ball entirely.  Little did I know that Veeva's Vault product, which was not dependent on the Salesforce platform, was taking off.  Now Vault is an industry platform of its own. It's exactly the kind of story I love-and missed entirely.
Veeva has now grown to $1 Billion in revenue and $400 million in non-GAAP operating income. The company sports a market cap of over $20 billion.  Another easy investment missed by me, and perhaps, Salesforce!