I'm pretty sure you agree, there are too many SaaS:
Mobile payment options (Samsung Pay, Google Pay, and PayPal are all on my phone)
Online lenders (B2B or B2C)
Home meal delivery services
Services marketplaces
Marketing and sales applications
Procure to pay solutions
E-invoicing networks
Payments networks
Logistics networks
Supply Chain finance networks
Parts marketplaces
Enter your favorite segment here
In fact, name any SaaS market segment and chances are CB insights has a market map capturing only a sampling of the players in that segment.  Divide the Total Available Market by the number of participants and you get a lot of very small software companies.
Consolidation May Be Accelerating
SaaS consolidation may be accelerating –and I'm not just talking about the Draft Kings/Fan Duel tie up!  Here are the signs:
Tomasz Tunguz points out that companies have seen an explosion in the number of cloud applications and vendors their IT departments are starting to support  Corporate IT does not like supporting many overlapping apps and corporate procurement does not like having too many vendors.  A small backlash is inevitable.  BYOD is one thing, BYOApplication is another.
Colin Powell's email hack (of all things) demonstrated that Salesforce had a quite extensive shopping list and that Salesforce assumed a bunch of other folks "interlopers" did as well.
SaaS M&A Activity has been robust.  In the same post cited above, Tomasz Tunguz points out there have been 30 $1 billion software acquisitions so far this year.  Thoma Bravo, Vista Equity, and Accel-KKR have all been active buyers.  All three know how to do B2B Enterprise SaaS M&A roll-ups.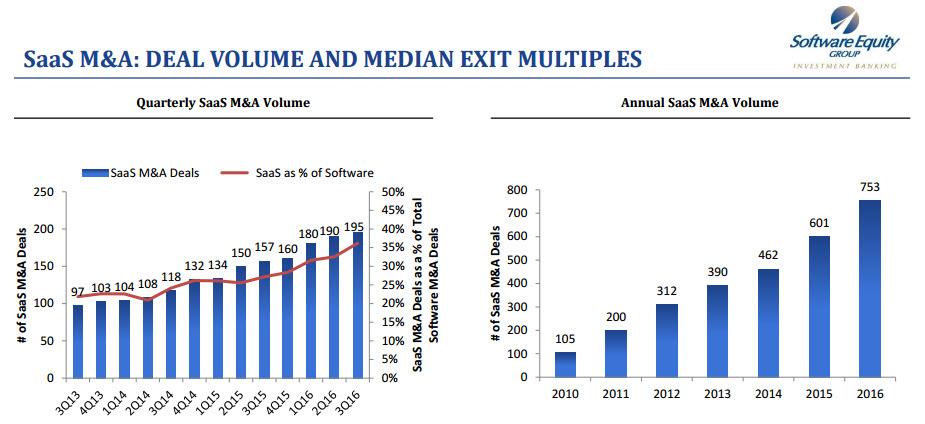 4.  SaaS IPOs seem to be a factor again and that will bring some new acquirers into the SaaS M&A market.  Coupa, for instance, cited the potential for acquisitions as a reason to go public.
5.  In some cases, SaaS companies are beginning to seek combinations.  In the case of private companies, this is done quietly.  (Take a look at the procure to pay market or supply chain finance markets and you will see quiet combinations.) In the case of public companies like, Twitter, Yahoo, or Angie's list the desire for consolidation is, of course, out in the open.  Just Google "seeking strategic alternatives", the business euphemism for " we are throwing in the towel".
But, SaaS Company Boards are Like Homeowners
One of the key impediments to even faster consolidation is that SaaS company boards act like homeowners.  Behavioral economists have shown that homeowners suffer from loss aversion–that is homeowners resist selling their house for less than they paid for it.  I suspect, though cannot prove, SaaS founders and investors act the same way with their companies.  These boards think about their investment, not what the company may be now worth.  Eventually, however, companies, like homeowners, come to their senses and the market adjusts.  SaaS companies will seek strategic partners if they cannot get their burn rate low enough, interest rates rise, and/or richer suitors come a calling.  All of these trends seem likely.