Yodlee, which I just wrote about on Friday and when it went public a year ago, announced it was being acquired for $18.88 in cash and stock from Envestnet (ENV).  This represented about a 50% premium over Yodlee's stock price on Friday.
Envestnet sells cloud software for financial advisors.  Yodlee will help Envestnet's clients get a more complete view of their clients' financial status.  Several of the account aggregators have now been acquired by broader financial software providers:
CashEdge was bought by Fiserv several years back
Byallaccounts was bought by Morningstar last year
And now Yodlee goes to Envestnet
On the surface, it seems like a very good fit.  Yodlee is a true industry platform and needed to end up in a "Switzerland-like" environment where it could continue to be viewed this way and act as a platform.  Envestnet, because it services independent advisors, may provide that kind of environment.  And the opportunities for using Yodlee data to drive cross-selling seems promising. Here is how the company summarized the combined opportunity: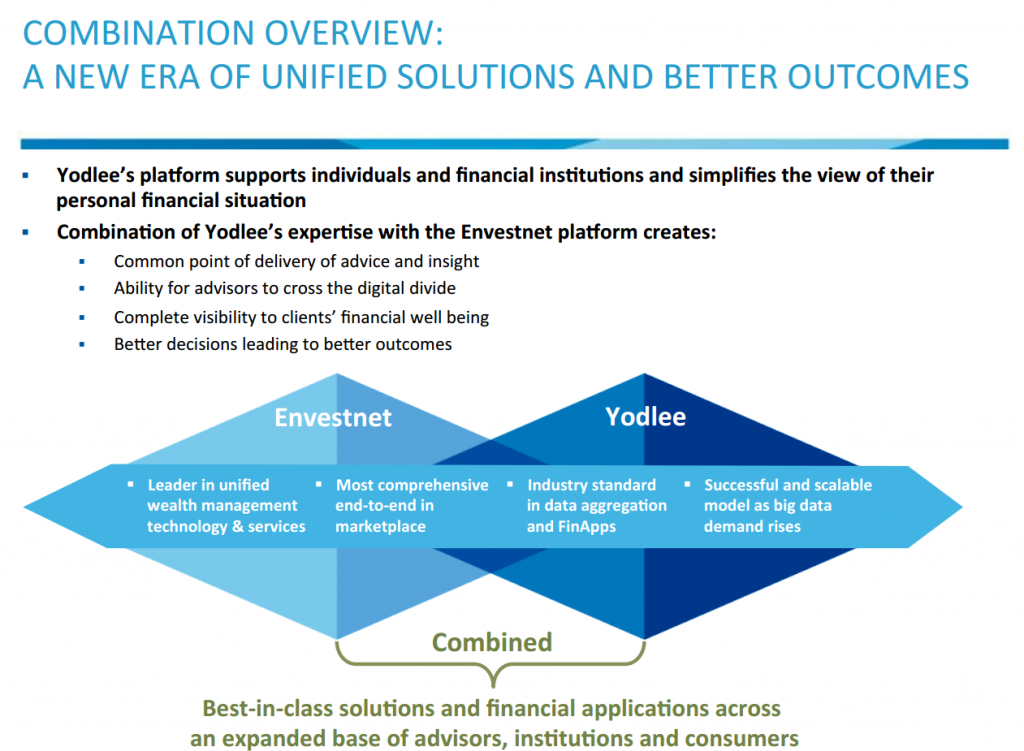 The Market is Skeptical
The market, however, did not like Envestnet's combined announcement of 2nd quarter earnings and the Yodlee acquisition.  Whether it was slowing growth in topline revenue or the Yodlee deal, Envestnet's stock closed Monday at $45.20 before the announcement and closed today down almost $16–to a little more than $29.  This represents a one-day loss of 35% of Envestnet's market value.
If you like the synergy story that Envestnet is selling it may be worth a look at their stock at these prices!