A couple of weeks ago Bodhala, a legal spend management provider, raised $10 million in growth equity.  In March, Persuit, "a first-to-market platform that facilitates a competitive process for sourcing outside legal counsel" was named by Fast Company as one of the world's ten most innovative enterprise software companies. Both of these companies are unabashedly bringing sourcing back to the legal spend category.  That's right legal spend, a category where procurement previously dared to tread only lightly.
Legal Technology Market
Before we get to Bodhala and Persuit, let's put legal spend management in context.
It's hard to ascertain how much corporations spend each year on outside legal fees.  It appears to be at least $100 billion.  Corporate law departments and outside law firms appear to spend one to three percent of this sum on technology.  While there's no perfect market map of the legal tech market, one of the best ones, albeit from 2017, comes from Catalyst Investors: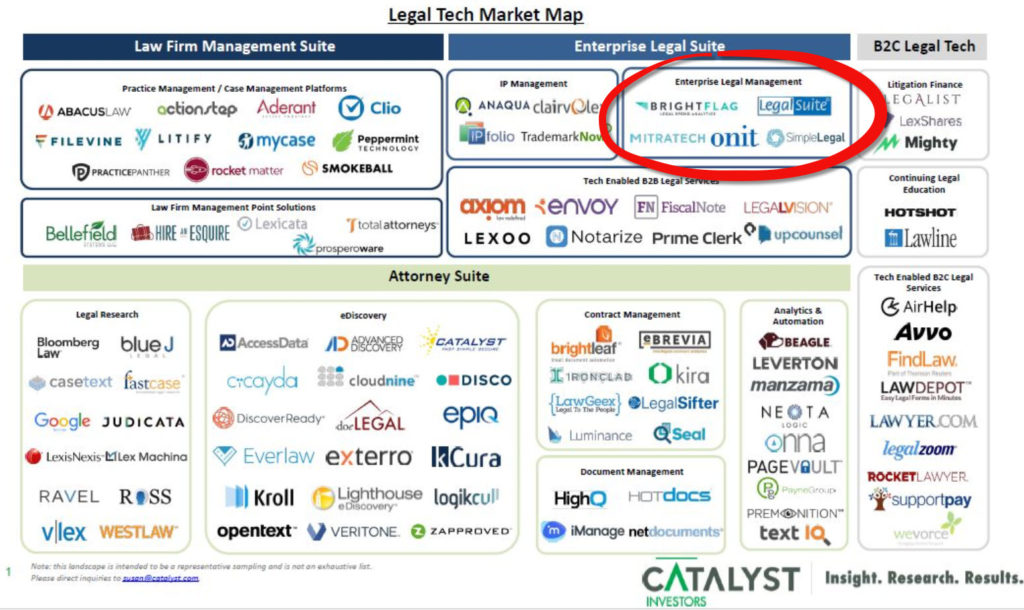 There are some great SaaS stories embedded in segments of the legal technology market:
Clio in practice management
Relativity (fka Kcura) in e-discovery
Seal (just sold to Docusign) and Legal Sifter in contract extraction
Icertis and Sirion Labs in contract management (both are not shown above).
There are even some brave people trying their hands at legal marketplaces!
Enterprise Legal Management Segment (ELM)
In the market map above, I have highlighted the Enterprise Legal Management segment. ELM provides a tool for corporate general counsels, who use many outside law firms, to perform three functions:
Matter management.  Opening, managing, and tracking matters all in one place.
Electronic Billing.  Electronic billing automates invoice review for compliance/pricing errors, allocation to cost centers and matters, and routing for approval. The legal industry is one of the few industries with an agreed-upon invoice data format (LEDES) and a Uniform Task-based management system.  In theory, these standards ensure consistent coding of services by outside counsels.  The standards are far from perfectly adopted, but the legal industry is ahead of most industries in using consistent invoice formats and details.
Analytics and Business Process Management.  The standardization of invoices and electronic billing makes it possible for GCs to compare rates between firms and also evaluate how much typical matters (e.g., NDAs, Lease Agreements, SaaS contracts) are costing their companies and to consider fixed cost options.
The ELM market was hot in the mid-2000s.  Competitors included:
TyMetrix and DataCert, (now part of Wolters Kluwer)
Serengeti Legal Tracker (acquired by Thomson Reuters in 2010)
Mitratech (acquired by Vista Equity in 2011)
Bottomline's Legal X-Change that plays in the property-casualty insurance niche of the market
Since 2010, at least two new companies entered the market:
Onit, (backed by K1 and acquired SimpleLegal)
BrightFlag, which looks like the newest competitor besides Bodhala and Persuit.  (BrightFlag was founded in 2014 in Ireland.)
All of these companies provide spend management as part of their offering.  BrightFlag emphasizes it more than most.
Legal Spend Management
Spend management was always a part of the ELM value proposition.  But vendors were careful not to push legal spend management too hard. Legal spend management was, instead, often presented as a natural outcome of the good data inherent in legal e-billing.   Vendors historically steered clear of the legal sourcing process.
Vendors in the enterprise legal management market tread lightly on legal sourcing, in my opinion, because reverse auctions were unpopular with GCs and law firms.  In addition, several of these vendors were monetizing e-billing by charging law firms to submit their e-bills (e.g., " law firms paid for the privilege of trying to get paid").  If vendors had added explicit price compression tools to the product mix, it would have added insult to injury.  (That was something Ariba did, not legal e-billing companies!)
Bodhala and Persuit entrance into the legal spend management market ends this reluctance to emphasize legal sourcing with a bang.
Bodhala
A few things pop-out of the Bodhala website.
Bodhala is going directly after the spend management part of the ELM market.  Bodhala's emphasis is not on e-billing, or matter management, it is on RFPs for rate cards, RFPs for matter management, and spend analytics, regardless of what e-billing system is used.


2.  The companyclaims to have a purpose-built application of AI/ML to apply to legal spend data.  Who knows if this is effective and true, but it's not an emphasis of the other vendors, except BrightFlag.
3. Bodhala puts much more emphasis than its competition on benchmarking legal rates across firms, versus just helping a company analyze its own spend.
Bodhala looks more like a spend analytics and sourcing company.  Analogies might be PowerAdvocate in energy, Brightfield TDX (if you add sourcing) in temp labor, or Broadjump in hospital spend.  I salute Bodhala's unabashed embrace of the GC (buyer) and their willingness, as a result, to take on rising legal bills.
Persuit
For an old Ariba guy, Persuit, is a real throwback.  The term "reverse auction" never appears on the website (smart) and the product is much more than just bidding.  Nonetheless, Persuit is clearly about real-time competitive bidding between law firms.  This is a sourcing application built by, and for, lawyers.  It's also a tool for moving from the billable hour to what the legal industry calls  "Alternative Fee Arrangements (AFAs).  AFAs are often fixed-fee engagements used especially for legal matters which are relatively routine.

The website is gorgeous, I hope the product is too.  The value proposition is made crystal clear by "money shot" slides that could have been pulled from FreeMarkets presentations in 1999.  These are the charts of prices falling during the "auto-negotiation" process like this one: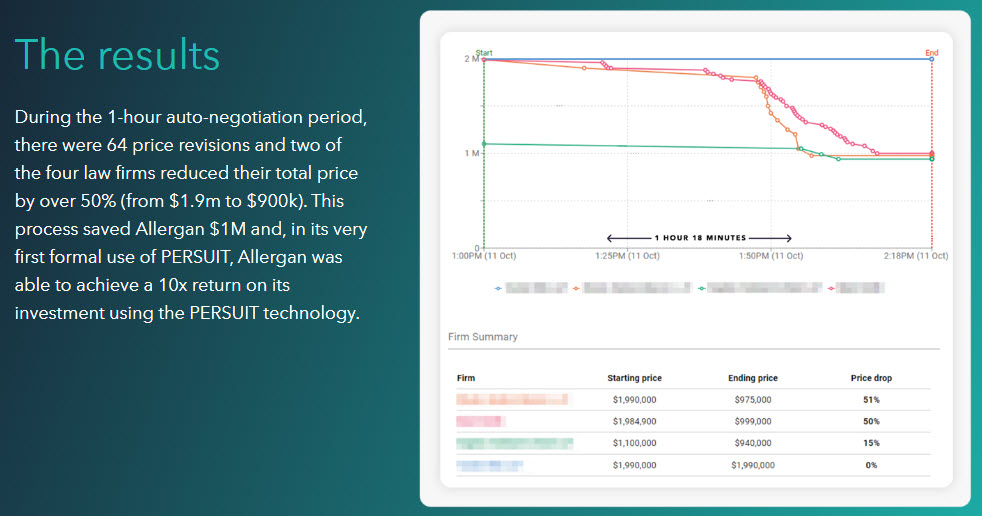 I had not seen one of these charts in a long time.
It will be fun to see if what was old becomes new again when it is done in a new era, with better tools, and legal-specific functionality such as AFA templates.
Summary
A tried and true strategy in SaaS is to attack a market with a bunch of relatively old providers that have been gobbled up by PE firms or large, staid companies.  Often, these incumbent firms have bled entrepreneurial talent and lost their focus on the product.  It's part of the Salesforce, Coupa, Workday, ServiceNow, and many others playbook. The legal spend management market fits the bill (pun intended) perfectly.  Bodhala and Persuit probably sense vulnerability in the current competitors and an opportunity for new, hungry players with a narrower focus and modern and tech stack. Back to the future indeed.